17 Sep

Walk-It Willow

Walk-it Willow is the first books in the Clever Tykes series and she was the first character to inspire children with her story.

Willow loves dogs, especially her big, shaggy dog, Stomp.  Stomp is a real handful but Willow has learnt exactly how to handle him. When Miss Snippet knocks on the door asking for Willow's help, Willow realises she can turn her passion into a way of earning some money as well as providing a valuable service to her community.

Willow enjoys walking Mr Snuggles (even if Stomp isn't impressed by his sickly pink fur!) and understands that to get more dogs to walk, she needs to find a way of letting others know she means business. In order to be recognisable as a dog-walker, Willow sets about finding something to wear on her walks!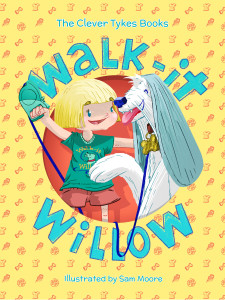 Willow manages to attract more and more dogs but when she remembers she's booked all six dogs in at once, she faces a real dilemma. Should she let some of her customers down or risk taking all of them out together?
As confident as ever, and not wanting to let anyone down, Willow sets off collecting all six dogs for their walk! As the rain comes in and the dogs get restless, they become very difficult to handle and Willow faces an even greater challenge when Pepper, Mr Moore's dog, manages to get away from her. What should she do now? What will Mr Moore have to say?
There are many valuable lessons to be learned from Walk-it Willow about honesty and mistakes as well as lots around enterprise and the associated skills and characteristics.
Willow's story is available from our store page.