15 Oct

Give your child the gift of success this Christmas

We all love Christmas, there's no hiding it. The time of year when nothing else seems to matter and all is right with the world. Wouldn't it be great to have all the positives of Christmas without all the hassle that comes before it? We can only dream! But we're confident we've got something that will help you out just that little bit at Christmas time – the perfect gift for children ages 6-9.

So, if you're looking for the perfect Christmas gift for your kids or some you know, consider the gift of success! (I know that's really cheesy, but that's what Christmas is all about, right?)

We're passionate about giving children the best start in life and we know you are too. It can be difficult to find the right gift, especially for other people's children, not least because you need the approval of both the kids and the parents! You're keen not to break the bank but you want to buy something that's really useful. Wouldn't it be great to buy something that will make a difference to a child's entire future, not just a week! It's all too easy to buy sweets, chocolate, a dodgy game or a pair of socks (although I do love socks!) But fear not:

We like to think we have the answer to the Christmas gift conundrum!

Clever Tykes inspires enterprising behaviour and raise aspirations through exciting storybooks. How cool is that? We've already has rave reviews from children across the UK so you're sure to get a thumbs up from them.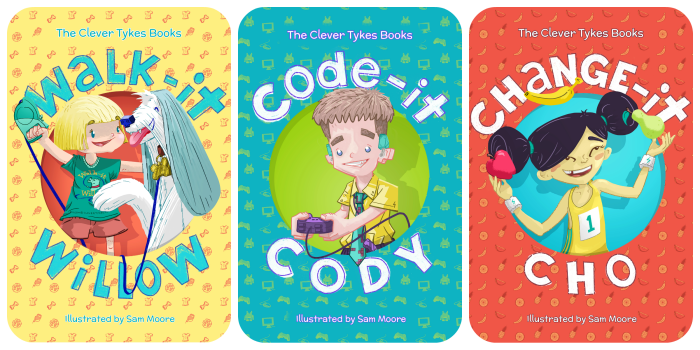 And here's the best part:
Parents will love them too. We're firm believers in building a bond between parents and their children. The Clever Tykes storybooks help children engage in something away from technology and the books raise fantastic discussion topics. This makes the series a great learning and development tool as parents can play as little or as large a role as they like in helping their children reading the stories and understanding the principles.
The Clever Tykes books will inspire them for years to come and could be the perfect gift you've been looking for.
The versatility of the books makes the series a perfect Christmas gift as they can be introduced to a child's day in many ways. Whether you see them as simply great inspirational stories or as educational resources, we know there will be something for everyone. That's what's great about 'edutainment' – it makes learning fun. Parents have told us just how many time their kids have read the stories so we know they'll be treasured for years after Christmas day!
The perfect Christmas gift for an eight year old
We say "eight" but, in reality it could be a child between five and ten based on their interests and their reading level. You can read more about the individual books on their respective pages; find out more about Walk-it Willow, Code-it Cody and Change-it Cho.
Remember that we've developed the series to increase children's academic and professional attainment and for the price of the series, how better could you spend that money?
Give your child or one you care about the gift of success this Christmas.
Visit the store to make a young person's day and even their whole life!