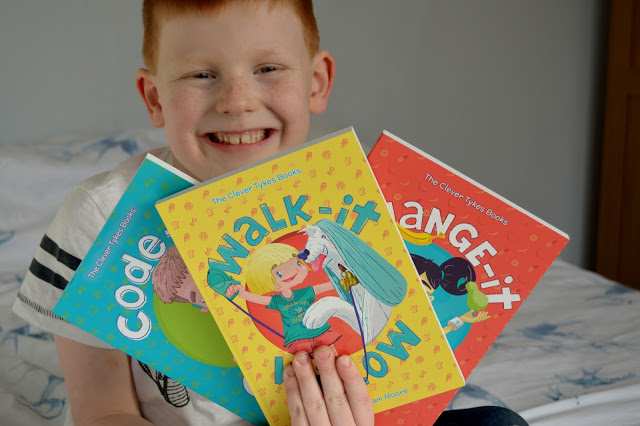 16 May

Gift Clever Tykes books to a UK primary school

Give the gift of confidence, resourcefulness and positivity to pupils in a UK primary school of your choice.

"Eva's attitude has changed since reading the Clever Tykes books. She has started putting a lot more effort into everything. Challenges no longer end in tears, Eva is stopping to think of ways she can solve problems rather than getting upset and feeling defeated. Definitely a sign the books have helped instil positive enterprising behaviour."

The Clever Tykes books bring positive, enterprising role models to life. The modern characters inspire children to follow their dreams and work hard to overcome challenges they may face.

Quantity guidelines:

8 sets: suitable for class reading

30 sets: one set for every child in a class

90 sets: one set for every child in a year group

– – –

Process:

Use code SAVE20 at the checkout for 20% off plus free shipping.

Please use the school's address when completing your order and state which class or year group your gift is for. We will contact the school to tell them about the gift and who it is from.

– – –

The stories prove popular with children ages 6, 7, 8 & 9 with a range of interests and are versatile teaching resources suitable for KS2:

• Guided reading
• Enterprise education
• Circle time and class reading
• PSHE or citizenship
• Comprehension
• English texts
• The basis for maths and art & design tasks

Walk-it Willow is a story about a budding dog-walker who realises she can provide a valuable service to her neighbours. However, things take a turn for the worse when Willow walks too many dogs at once.

Code-it Cody follows the interests and ambitions of computer-whizz, Cody. When Mr Chip sees his potential, he encourages him to enter a competition with a computer game of his own.

Change-it Cho is a story about a girl with a passion for inspiring positive change. Cho loves running and eating healthily and wants to spread her enthusiasm with her school friends. However, not everyone is receptive of her ideas!

The books contribute to a school being able to develop enterprise education as well as providing perfect primary-level reading material.

Check out our reviews to hear from parents and teachers who have noticed a positive change in their children's behaviour and mindset.