01 Dec

Code-it Cody shows how being hearing impaired is no barrier to achievement

There has been intermittent coverage surrounding the lack of children with disabilities in fiction and media, generally. At Clever Tykes, we are passionate that every child, regardless of their background, grows up believing they are capable of anything and achieving their goals.
For release
Code-it Cody shows how being hearing impaired is no barrier to achievement
What if there is a simple way you could improve the academic and professional development of your children by simply reading stories with them. Clever Tykes, a new company from the UK has developed a children's storybook promoting an inspiring role model for children, but with a twist!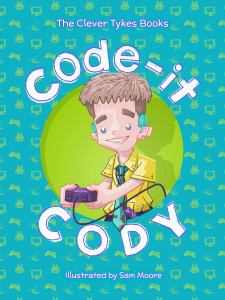 Code-it Cody, the second of The Clever Tykes series, is a positive entrepreneurial hero who is hearing impaired. Not only does Cody have to tackle personal challenges but also finds himself competing in a computer competition.
"There are simply not enough books that feature children with disabilities and the few that do, focus too much on disabilities rather than on what can be achieved through determination and a positive attitude. Throughout the Clever Tykes series, each character journeys through many personal challenges and all face realistic hurdles in society." says founder Ben Cook
There is a strong link between children who have entrepreneurial parents; now Clever Tykes is offering the opportunity for every child to have an entrepreneurial role model. The stories promote key life skills like resourcefulness, resilience, innovation and determination and will help children aspire to more both academically and professionally.
"Children have some great fictional role models in traditional jobs like Postman Pat, Fireman Sam and Bob the Builder, now Clever Tykes is painting a better picture of businesspeople rather than Mr. Burns, Ebenezer Scrooge and Lord Business from the Lego movie!" adds Mr. Cook.
The Birmingham-based business is making waves in the primary enterprise education sector and it seems only a matter of time before parents are flocking to get their hands on the series to give their children the best start in life.
Having already been sponsored by NatWest to pioneer primary enterprise in the classroom along with teaching resources, Clever Tykes is now launching its series of storybooks to the public this Christmas to give every parent in the UK the opportunity to get their hands on the revolutionary series. You can find out more about the project at www.clevertykes.com and you can buy the series for any children who you want to give a kick-start in life!
ENDS
—————————————
Notes to editor:
The company started in 2012 with the sole purpose of promoting enterprising behaviour after it was realised that there was a direct link between an entrepreneurial upbringing and the likelihood of starting a business later in life.
Having been included in Lord Young's recent Government report and received high praise from the Minister for Education, Clever Tykes has secured a pilot with a major high street bank to deliver branded books and teaching resources into local schools. The series helps children with the worst upbringings the very most and become a key driver for social mobility in the UK.
With a strong start, Clever Tykes continues to work towards the aim of reaching all 21,000 primary schools and to inspire over 4million young people in the UK.