So this is the Clever Tykes story, from the start. Where the idea came from and how we ended up creating storybooks to inspire enterprise!
Let's begin with Jodie's experience:
A room full of young entrepreneurs
In 2012 the Start Up Loans company was started, and James Caan adopted the role of chairman. The Start Up Loans scheme is an incentive that aims to encourage young people to start their own business, by offering them a loan, a mentor, and access to discounted business services.
As part of the launch of the scheme, twelve young entrepreneurs from across Great Britain were selected to become 'ambassadors', as examples of young people who had started their business on very limited budgets. These twelve ambassadors included James Eder, founder of Student Beans; Carrie Green of The Female Entrepreneur Association, Zoe Jackson of Living the Dream, Adam Hildreth of Crisp Thinking, and, me, Jodie Cook of JC Social Media (and of Clever Tykes!).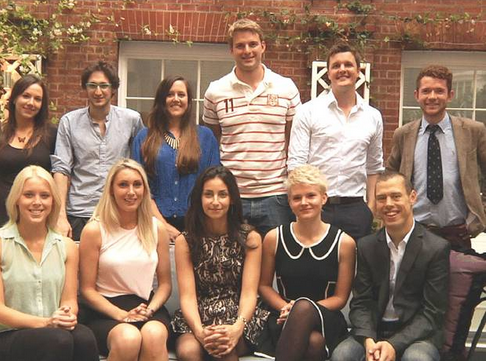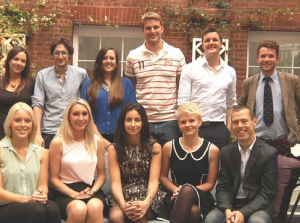 One day in summer 2012, the ambassadors were sitting round a table in London with James Caan, Hanah Caan, Bev James and Duncan Cheatle. James then asked us all a question.
"Just out of interest, how many of you have a parent who has their own business?"
I raised my hand, thinking there would be two or three others. I looked around the room in astonishment. All but one of the other ambassadors had raised their hands.
All but one of these young entrepreneurs had a parent who had their own business.
This really got me thinking. None of us had received any kind of financial support from our parents, so it wasn't that we'd been able to set up our own companies from that. The real reason we had all been able to set up our own companies and succeeded in doing so was because of the accessibility factor. Because we had all been exposed to entrepreneurship from a very young age, the barriers to it seemed so much lower, not such a big deal. We grew up with the mindset of "well, why wouldn't I start up my own business?"
With this type of career path already firmly engrained in our psyche, we were able to take advantage of our expertise and passions, putting all of our academic skills into action to create our own careers.
Ben and I had a chat and a think. Was this sample of 12 people too small to draw a conclusion from. We needed to do more research!
At this point Ben began haranguing Professor Francis Green at the University of Birmingham for more information, the professor had already published a related paper entitled "Like mother, like daughter". Professor Green confirmed the strong relationship between entrepreneurs and their entrepreneurial parents and that evidence that it is genetic is scant. We knew we were on to something here…
It doesn't have to be the case that only kids whose parents have their own business may also go on to do the same, far from it. Our aim is simply to make entrepreneurship more accessible to everyone, ingraining key principles in children from an early age.
But how do you teach all this? How do you teach resourcefulness, responsibility, conscientiousness, drive and ambition? Well that's why we created storybooks – it's all about role models.
Role models
Think about it:
When children are growing up, they are constantly learning and adapting their behaviour from their experiences. For example, a child touches a boiling kettle; they quickly learn not to touch a boiling kettle again! They also learn from the experiences of others; the things they see around them, their family and friends and what they see and read.
When children are growing up and learning about the world, who are the characters they learn from?
They learn from their parents, about their jobs and the jobs of their parent's friends. They spend a lot of time with their teachers, so learn about their roles. Really, a child's view of risk, employment and their whole career mindset is largely governed by their parents and their teachers, as these are the adults they have most exposure to.
Then there's television and literature. Children have historically watched and read series such as "Postman Pat" and "Fireman Sam", they come across many employed people, often people employed in the public sector (P.C. Plod) and in traditional jobs or trades (Bob the Builder).
'Businesspeople' or even 'rich people' are portrayed as greedy, mean characters (Matilda's dad, Mr Burns). They are usually overweight, have facial features similar to that of a pig, and wear a pinstriped suit. They will often be portrayed as dishonest, ruthless and selfish. They may be running a huge business in an industry such as energy, cars or property. Even if we come across a friendly baker or butcher running a family business, we rarely encounter the first generation of these businesses, when someone had to show true entrepreneurial spirit to start it up. We rarely see the innovation side, the creative side and the hard working side of any of these businesspeople.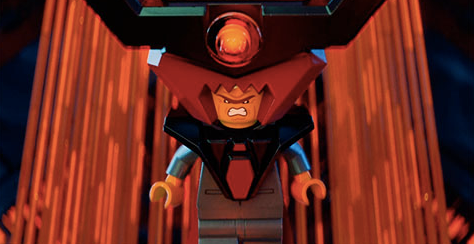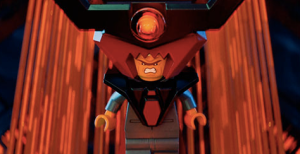 Lord Business from the Lego Movie fits the stereotype perfectly.
Current children's literature gives little or no exposure to entrepreneurial behaviour
This got us thinking some more.
There's a real disconnect. There are companies like Start Up Loans, Start Up Britain, The Hot 500 and so on, doing great jobs in making starting up accessible and educating young adults in enterprise and entrepreneurship. Yet, for the duration of these individuals' childhood and education, they have been conditioned to believe that businesspeople aren't positive role models, and have had no experience of entrepreneurial behaviour or the mindset it requires.
This means the UK's challenge lies in re-educating young people to think about business and enterprise differently, instead of it being a completely alien mindset which has not been promoted throughout their childhoods.
A grass roots approach
Imagine a young adult has been through a childhood of learning how to be an excellent footballer. Since he can remember he has been playing football every day, watching it on television and learning all about the sport. All he has ever wanted to be is a professional footballer. He lives, dreams and breathes football!
Now imagine that the government has decided that we have enough footballers. So many, in fact, that there aren't enough jobs at professional clubs for all the young and aspiring 18 year old footballers. The government has also realised that there is a shortage of top rugby players. How do they go about redressing this balance? Let's say that they go and talk to 18 year olds across the country, who have been playing football all their lives but haven't been able to secure a full-time contract. The government offers them all a free rugby ball, a manual on how to play rugby, some kit on loan, and everything else they would need to become top rugby players. How many top-class rugby players is this going to create?
In reality, this is not the approach that the sports industry adopts. The sports industry has a firm grasp on the idea that, in general, professional sportspeople have been playing their respective sport from a very young age. If we need more sportspeople in a particular sport, the sports industry adopts a long-term 'grass-roots' approach. In rugby, for example, we have seen pushes to introduce tag rugby to schools and rugby clubs to children as young as 5 years old. This exposes them to a basic form of the game where they learn some of the rules and the mindset the game requires, and ignites their interest. Not all of these children will one day become world-class rugby players, but we have a much better chance of success than if the approach them later in life.
So let's relate this analogy to enterprise:
Throughout school, children are taught that the path to success is to pass exams, get good grades, go to university (or take a vocational course) and secure a good job. There is limited focus on enterprise and people creating their own jobs; despite the fact that our economy relies on businesses and entrepreneurs often incredibly happy in the lifestyles they create.
Companies like The Prince's Trust and the ones mentioned above are doing a fantastic job in offering support for young adults in setting up on their own, but we feel that a real grass-roots approach is needed.
These companies exist because the UK economy suffers from a lack of innovation and entrepreneurship which would drive economic growth; but the problem goes deeper. These companies provide a solution to the result of the problem;
our society and our schools are not organically producing entrepreneurs and employers, just an abundance of employees. Incentivising start-ups to young adults is helping create new ventures, but it's not tackling the cause of the problem.
We feel that the principles of entrepreneurship and enterprise need introducing gently to children from an early age, exactly the same way as the sports industry would. Furthermore, the important transferable life skills of independence, creativity, organisation, communication and resourcefulness must be promoted. Teaching these principles and skills will mean that the accessibility to enterprise is maximised and not such a barrier to overcome once these children become young adults. The Clever Tykes series does exactly this, and hopes to instil these concepts into 6-9 year olds through fictional literature.
Our vision is that when these 6-9 year olds become 18-24 year olds, they have seen setting up their own venture as a viable option, so consider it seriously for their own career path.