Do you have an audience of parents with kids aged 6-9 years old? Could you encourage them to invest in their children's future and well-being? If so, the Clever Tykes affiliate programme could be just what you've been waiting for!
How does an affiliate programme work?
Affiliate marketing is a way for a website (with a similar target audience to that of Clever Tykes) to earn commission for directing paying customers to the Clever Tykes website. The affiliate programme uses a clever cookie that tracks referrals from your unique affiliate link. Anyone who makes a purchase from the Clever Tykes site within 60 days of using that link will earn you 20% commission on whatever they spend!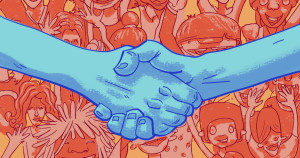 As an affiliate you don't have to handle any stock or deal with customer payments, you simply receive your commission at the end of each month paid into your PayPal account.
The Clever Tykes affiliate programme works in the best interests of everyone involved. Our affiliates earn commission whilst Clever Tykes can share the books with a wider audience of children. The affiliate programme provides websites like yours with the chance to create a great revenue stream.
The programme offers a wonderful opportunity for people looking to monetise their network but who don't necessarily want to product their own products to sell. We can't stress enough how important it is to make a commitment to the programme to keep driving people to the Clever Tykes site through your link.
Are the Clever Tykes books right for your site?
There are a number of ways in which you can direct traffic to the Clever Tykes site but you will maximise the opportunity to earn commission if you:
Have a significant level of web traffic (several thousand+ page views per month)
Have an audience predominantly of parents with children aged 4-10 years old
Display a permanent 'advert' for Clever Tykes on your site (available to download from our affiliate area)
Regularly share links through your social media channels and newsletters
Are prepared to write blogs about the Clever Tykes books or have a dedicated page on your site
If you are confident you can do the above, then you'll make the perfect Clever Tykes affiliate and you stand to make some great commission! You don't have to do anything in terms of dealing with payments or deliveries – all you have to do is direct people to the Clever Tykes website and you'll receive commission monthly based on your sales.
Everything is transparent and trackable using our affiliate plugin which gives you complete access to the data about web traffic and conversions generated from your link. In your affiliate login area, you'll also have access to all of our latest images and adverts to make you pages look as enticing as possible and we'll notify you of anything new and exciting you can use to promote the books.
If this all sound like something you'd like to be involved with, get in touch here with you domain name, web traffic details and we'll get back to you ASAP!
See our full affiliate terms and conditions here (they're long and boring but we have to have them!).